Metal Sequin Fabric
Metallic sequin fabric can be easily installed for interior decoration, but is also flexible enough to be shaped for many other applications. With a light reflective surface, the mesh creates a simple, yet lustrous pattern of texture unlike any other material.
Specification:
1. Material: aluminum, copper, stainless steel flakes and rings;
2. Flake Size: 3mm x 3mm, 4mm x 4mm, 6mm x 6mm, 8mm x 8mm and 10mm x 10mm;
3. Sheet Dimension: 45cm x 150cm;
4. Shape of sequin: Round, Sharp and square;
5. Surface Treatment: Oxidization or spray-paint;
6. Features: smooth surface ,various colors are available, fashion design ,shiny and bright.
Feature: shiny and bright, durable,fireproof,waterproof,rustproof ,eco-friendly,flexible enough to be shaped for many applications,light weight,easy installation ,easy to be cleaned, maintained and repaired. With its versatility, unique texture,a variety of colors, durability and flexibility,Golden sequins fabrics are more and more popular in the inner design and clothing design. It is easy to cut into any shapes and sizes. It can divided into five kinds according to the diameter of the flakes which are 3mm, 4mm, 6mm, 8mm and 10mm.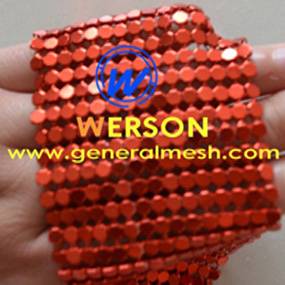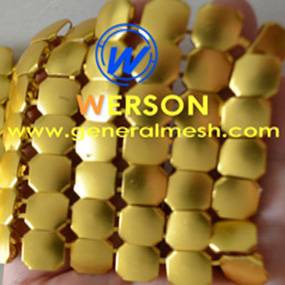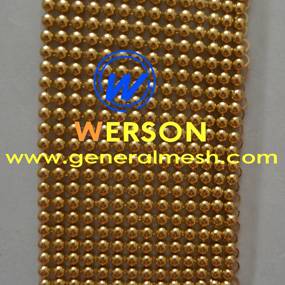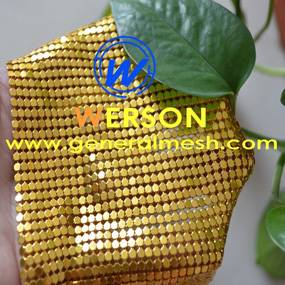 Applications: The metallic sequin cloth is a new kind of decorative materials, which are widely used as room divider and partition wall for home, hotel, restaurant and café;curtain and drapery for meeting room, club,bar and salon; light decoration ,window curtain ,decorative curtain,ceiling treatment,wall backdrops,table runners, visual merchandising,fashion bags and garment,etc.




Contact Us
Add
: Industrial Zone of Anping County, Hebei Province, China.
Tel
: +86-318-7757320
E-mail
:
sales@generalmesh.com