Flat Flex Conveyor Belts
Flat flex conveyor belts are usually gear transmission belt, with good ventilation advantages, tension evenly, fine workmanship, the flat flex belts with a flexible rotation, good stability, High temperature, pressure resistance, corrosion resistance, long life and so on.

Flat flex conveyor belts are used with a single-layer structure, lighter, the use of sprocket drive. Large open area (opening 70-85%), often used in the lighter weight of the product cooling, frying, baking, drying, heating, decoration, wrapped powder and packaging equipment.

Flat flex conveyor belts are used of stainless steel high quality of steel wire and stainless steel wire in production. Flat flex conveyor belts are multi-purpose single-sided mechanism (the most commonly used), double-side structure for special purposes. It can be used for linear conveyors and turn conveyors.

Specification:
1. Wire diameter 1.0mm-3.0mm
2. Rod pitch: 4.3 - 20mm
3. Material: stainless steel 304, stainless steel 316
4. Roll width: 200 -3600mm
5. Other specification is also available according to requirement.
Note: Pitch is generally customized according to clients' requirements, which is a non-standard conveyor belt.

Application: Flat flex conveyor belts are mainly used in for quick-frozen food, fried food, sugar machine, chocolate coating with a variety of bread and pastry food baking conveyor line. Flat flex conveyor belts are used in the food industry for the production of the following products: small dessert, fish products, pizza, vegetables, bread, flour, cakes, meat, candy, potatoes, biscuits, chocolate, nuts and fruit.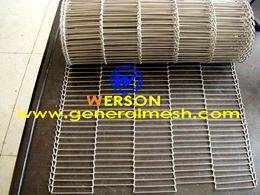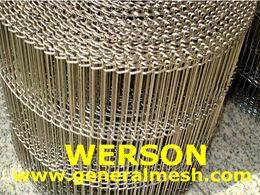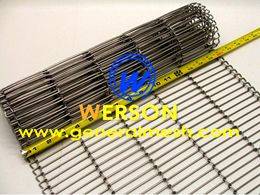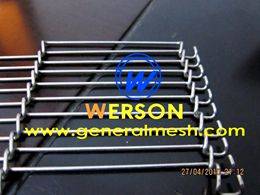 Contact Us
Add
: Industrial Zone of Anping County, Hebei Province, China.
Tel
: +86-318-8557784
Fax
: +86-318-7757320
E-mail
:
sales@generalmesh.com